Education
With over 15 years of teaching, curriculum-development, and hands-on classroom experience, EAT FOOD offers customized, fun, engaging, and effective nutrition-education programs tailored for all age groups and skills levels (pre-kindergarten, school-age, adult and elderly).
Programs do not have to be limited to classrooms and kitchen settings – we will gladly create site-specific lesson plans, such as a farm-to-table curriculum for urban students at a working farm, farmers' market, or community garden.
We can also develop and deliver workshops and lectures such as an in-store "How-to Shop Smart" discussion and demonstration. From weight-loss workshops to healthy cooking classes to after-school programs for children and teens, EAT FOOD will meet a wide range of learning objectives for any target group.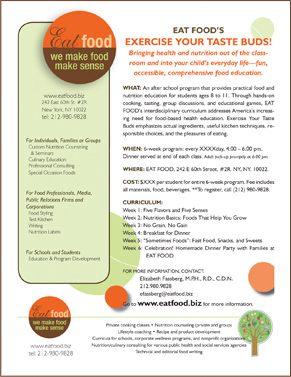 An EAT FOOD nutrition curriculum may consist of:
• written content: ready-to-use lesson plans complete with graphic design, tested recipes, and instructor's manual
• detailed, comprehensive supply list (prepared supply bins with all necessary materials also available)
• staff training and hands-on support
• evaluation tools (prepared surveys, lesson reviews, and ongoing consulting to help the program work best for your organization)
Public Relations
The current food and beverage market is a cluttered landscape of products all vying for consumers' limited attention and even more limited spending dollars. EAT FOOD can help distinguish your brand and reach your desired audience with a message that resonates.
Various food and beverage companies and PR firms rely on our expertise for in-depth nutrition analysis and interpretation to help synthesize nutrition messages into relevant, consumer-friendly language that helps it all make sense.
We work closely with companies and offer support with program development, recipe development and analysis, nutrition research, photo shoots, television segments (live and taped), editors' desk-sides, SMTs, and promotional events.
Our team includes:
• a marketing and communications
specialist to provide strategic counsel on nutrition-related concepts, branding, and programs
• registered dietitians to analyze and interpret nutrition data, research and studies
• food professionals to create recipes, develop products, and provide food-styling services
• writers to produce press releases, product copy, web content, consumer-education materials, nutrition labels, and research-based health reports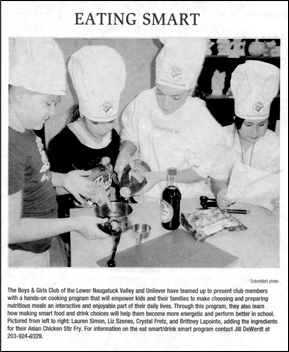 Local Shelton paper catches the kids in action.